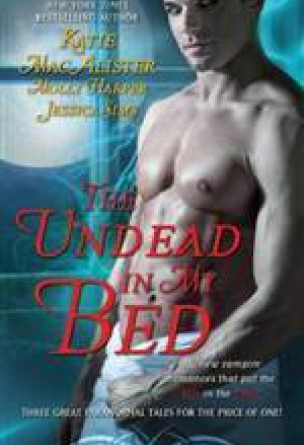 The Undead in My Bed
Rating:

8.8

/

10

from

22

ratings
A sizzling vampire romance anthology featuring enticing novellas from beloved and bestselling authors Katie MacAlister, Jessica Sims, and Molly Harper.

In "Shades of Gray" by Katie MacAlister, Noelle is a Guardian: a demon-wrangler, imp-banisher, and all-round secret protector of humans from the Otherworld. While working on the set of a ghost-busting reality show in a haunted castle, she meets a sexy vampire, and together they prevent a Master Demon from killing everyone in the castle.

In "Undead Sublet" by Molly Harper, executive chef Tess Maitland is banned from her five-star kitchen in Chicago to recover from "exhaustion." Choosing a random rental house in Half-Moon Hollow to spend time in, she's unaware that the house comes with a strange man. Even though Sam Masden's ex-wife has rented the house out from under him, the divorce settlement allows him access to it for another ninety days. With Tess unable to go anywhere else, and Sam unwilling, a war of epic proportions is declared—and romantic sparks and heavy pots fly.

Jessica Sims's "Out With a Fang" features Ruby Sommers, a lonely were-jaguar who signs up for a blind date through the paranormal dating agency Midnight Liaisons. When she arrives, she finds out that her date, a vampire, was the human she'd been in love with four years ago but was forced to dump.
---