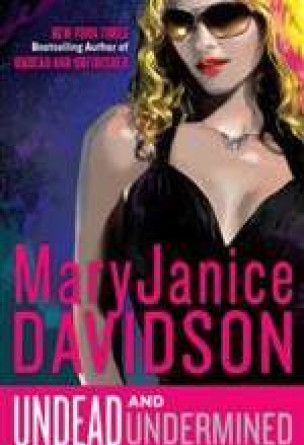 Undead and Undermined
Rating:

8.5

/

10

from

14

ratings
So this is what being dead feels like. Vampire queen Betsy Taylor has awoken in a Chicago morgue, naked as a corpse. Her last memory is reconciling with her husband, Eric Sinclair, after a time-traveling field trip, including an indirect route to hell (literally), with her sister, Laura. Now she's Jane Doe #291, wrapped in plastic with a toe tag. Betsy can't help but wonder, what in hell happened?

Grabbing clean scrubs, Betsy hits the pavement and heads back to her St. Paul mansion to find that her family and friends have been frantically searching for her. And not one of them can explain how she ended up dead and naked - not to mention, in Chicago - until Betsy realizes that she and Laura didn't time-travel alone. What followed them had a wicked agenda: to kill Betsy in a time when she was still young and vulnerable and end her future reign as queen.

But it's not just Betsy's future that's taken an unexpected detour. Everyone in her circle, alive or undead, is feeling the chill. Betsy can't let the unthinkable happen. It would be a day in hell if she did.
---