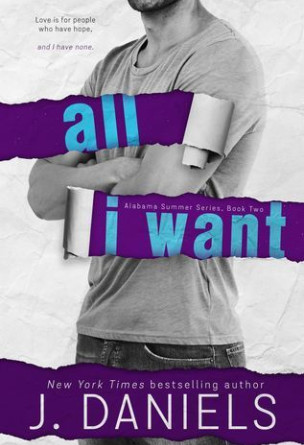 All I Want
Rating:

8.5

/

10

from

20

ratings
From New York Times bestselling author, J. Daniels, comes the second COMPLETE STANDALONE in the Alabama Summer series.
Luke Evans is a heartbreaker.
I didn't want to give mine to him. Not when he kept me out.
He gave me enough, just enough to make me fall in love with him. I say this to convince myself. But I know the truth.
I would've fallen in love with him at a distance.
Handing my heart over to Luke was the easiest thing I've ever done. I was naive when I wished for more, when I hoped he wanted the same things I did.
I try to hate him. I try to forget him.
But it's not that easy. 
Love is a ruthless bitch, and I'm her latest victim.
~*~
Tessa Kelly is a man-eater.
When she sets her sights on you, she doesn't just consume your heart, she goes for your soul.
What we had was perfect, real, and all I would ever want.
But she destroyed it.
She destroyed us.
I try to hate her. I try to forget her.
But it's not that easy. 
Love is for people who have hope, and I have none.
---