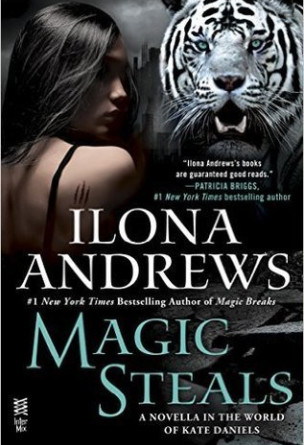 Magic Steals
Rating:

8.1

/

10

from

29

ratings
Ilona Andrews—#1 New York Times bestselling author of Magic Shifts—once again pulls readers into the dark and dangerous world of the Kate Daniels novels...
Shapeshifting tigress Dali Harimau may be a powerful healer and magic user, but she's far from what might be called "normal". She dislikes the violence and bloodshed that are a way of life for most of her kind, even going so far as to become a vegetarian. The last thing she wants is trouble...
Jim Shrapshire is an original, hardcore badass. A jaguar shifter, he's been tasked with keeping Atlanta's Cat Clan in line, which he does with swift and lethal force when necessary. His only soft spot is for the petite Dali, whose kindness he calls upon when he is injured.
When Dali is approached by a desperate woman whose grandmother has vanished, Jim is concerned enough to help investigate. But what they find may just be the end of them—an enemy whose skill in the dark arts is matched only by their willingness to kill anyone in their way...
Magic Steals was originally published in the anthology Night Shift
---