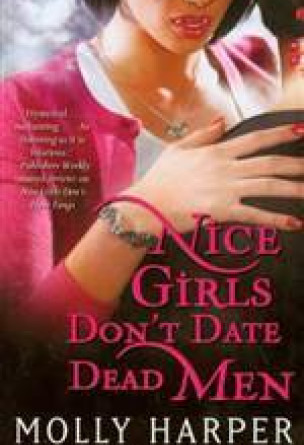 Nice Girls Don't Date Dead Men
Rating:

9

/

10

from

27

ratings
Following Nice Girls Dont Have Fangs, the second in a hilarious, smart, sexy romantic series about an out-of-work librarian who is turned into a vampire.

With her best friend Zebs Titanic-themed wedding looming ahead, new vampire Jane Jameson struggles to develop her budding relationship with her enigmatic sire, Gabriel. It seems unfair that shes expected to master undead dating while dealing with a groom heading for a nuptial nervous breakdown, his hostile werewolf in-laws, and the ugliest bridesmaid dress in the history of marriage.

Meanwhile, the passing of Janes future step-grandpa puts Grandma Ruthie back on the market. Her new fiance;, Wilbur, has his own history of suspiciously dead spouses, and he may or may not have died ten years ago. Half-Moon Hollows own Black Widow has finally met her match.

Should Jane warn her grandmother of Wilburs marital habits or let things run their course? Will Jane always be an undead bridesmaid, never the undead bride?

Combining Mary Janice Davidsons sass and the charm of Charlaine Harris's Sookie Stackhouse novels, this is an incredibly satisfying read for fans of paranormal romantic comedy.
---