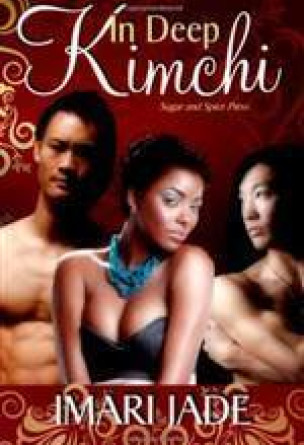 In Deep Kimchi
Rating:

8

/

10

from

18

ratings
Erotic romance author Shaundra Morrison thought there was nothing in the world her handsome white boss Harper Kehoe could offer her to get her on a plane bound for Tokyo, including free use of his body for the duration of the trip. Becoming a member of the mile high club intrigued her but not enough to conquer her fear of flying.

Harper Kehoe had money, power, and everything his heart desired except for the affections of his best selling author Shaundra Morrison. He jumped at the idea of forming a partnership with Japanese mogul Goro Niigata because to Harper business came before pleasure. And what a perfect way to have both than by inviting Shaundra and three of his other successful authors to accompany him to Tokyo to promote the opening of NIKII Publishing. So what if it meant having one of his doctor friends prescribe Shaundra a sedative to knock her sexy ass out for twenty-five hours.

Shaundra wasn't too keen on the idea of being drugged just to fly halfway around the world to help Harper promote his new business, until her senior editor showed Shaundra a picture of Aomori, a group of four J-Pop singers who Mr. Niigata managed and planned to use to help promote his new business. All it took was one look at those beautiful faces, sexy young bodies, and all that long black hair to get her to reconsider. The worst thing that could happen to her would be she'd be turned into a junkie before she returned to New York. The dampening of the panties between her legs assured her that it would be well worth it.
---