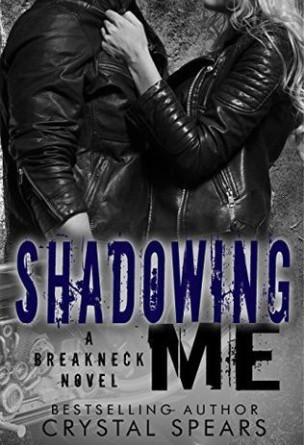 Shadowing Me
Rating:

8.6

/

10

from

26

ratings
Welcome back to the world of Breakneck where Pyro continues to mourn the loss of Lana, ZZ's twins drive him crazy, and the whole MC prepares for the birth of Braxxon and Winter's child. Things are quiet and calm… Or so it seems. 
Shadow's secrets are slowly being revealed, leaving him powerless to stop the resulting havoc. With Tatiana hot on his trail every time he turns around, the tables have turned, and now, she has become his Shadow. 
As Winter and Braxxon begin a hostile takeover of the BDSM club owned by Shadow's best friend, the unthinkable happens, and the result is the worst bloodshed in Breakneck history. The torture, violence, and death caused by the carnage will have the entire MC reeling from the loss. 
When Shadow finally decides to stop denying his feelings for Tatiana, he discovers it may be too late. The Breakneck family loss is far too great for Tatiana to think about her own feelings for the one man who has constantly resisted her. 
Causing further drama for the Breakneck crew, the Russians step back into the picture. Whether they are friend or foe remains to be seen. And when Winter gets an unexpected visitor, it throws Tatiana in a fit of rage and rebellion. 
Welcome back to the real world of Breakneck… where bloodshed and mayhem are to be expected. 
For Mature Readers Only. 18+
---
You're reading Shadowing Me (Breakneck #3) free book online on NovelsToday.com !