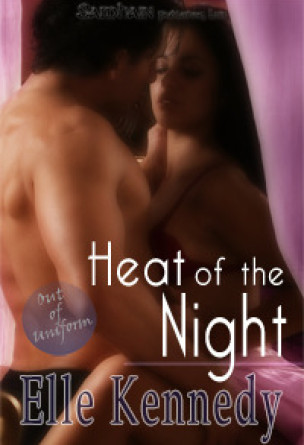 Heat of the Night
Rating:

8

/

10

from

29

ratings
When the heat is on, anything that can happen will.
Out of Uniform, Book 5
When her long-time fiance breaks off their engagement, saying he needs to explore other avenues, Annabelle Holmes has no trouble reading between the lines. Bryce thinks she s a prude. Funny, since when it comes to acting out sexual fantasies, he s always been the squeamish one.
Determined to prove him wrong, she sublets an apartment in San Diego, grabs pen and paper, and lists all her sexual fantasies. Intending to surprise Bryce with it as soon as possible. Only the list winds up in the wrong hands or are they the right ones?
Navy SEAL Ryan Evans is expecting a little impromptu fun with his always-willing, blonde-and-leggy neighbor. But when he slides into her bed, he finds horrified, brunette-and-curvy Annabelle instead along with her naughty list.
Embarrassment doesn t begin to cover it when Annabelle realizes where her list has ended up. But then Ryan makes her a delicious offer: The chance to check off every last wild, wicked item with the help of his equally hot SEAL team buddy, Matt.
A harmless fling is easy to add to her list. Then something unexpected happens that s not so easy to cross off Warning: This title features a sassy heroine, a Navy SEAL hero, and a sex list being organized has never been so much fun! Be prepared for hot sex on the floor, in public, and even with someone watching "
---