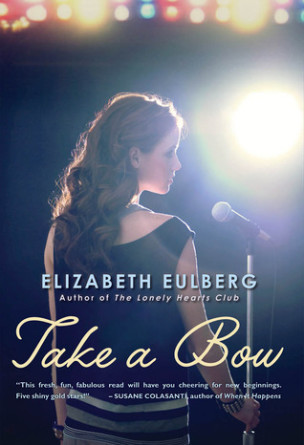 Take a Bow
Rating:

8.8

/

10

from

21

ratings
Chasing fame.
Chasing love.
Chasing a future.
Emme has long lived in her best friend Sophie's shadow. She writes songs, and Sophie sings them. It's always been like this, and feels like it always will be.
Sophie will stop at nothing to be a star. Even if it means using her best friend and picking up a trophy boyfriend, Carter.
Carter is a victim of a particular Hollywood curse: He's a former child star. Now all he wants is a normal life. But being normal is about as hard for him as being famous.
Ethan has his own issues - a darkness in his head that he just can't shake. He's managed to sabotage every relationship he's ever been in. Emme's the only girl he's ever really respected... but he's not sure what to do about that.
Emme, Sophie, Carter, and Ethan are all students at a performing arts school, where talent is the norm and fame is the goal. But sometimes, being in the spotlight isn't as important as the people you're sharing it with - as the four of them are going to find out in Elizabeth Eulberg's excellent new novel, which is about the auditions life puts us through every day, both big and small.
---